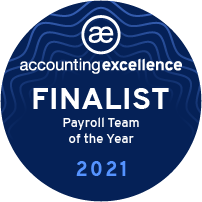 The Accounting Excellence awards which are now in their eleventh year saw a record number of entries, and despite this fierce competition we are delighted to have been shortlisted for such as prestigious award, Payroll Team of the Year.
We've been providing payroll services to organisations for over 10 years and our experienced team currently support charities, social enterprises and businesses. Our Payroll Team have worked tirelessly throughout the pandemic to ensure all our clients meet their deadlines and paid their employees on time.
Director Samantha Nicholson said:
"Our payroll team have been working tirelessly over the years to provide great, cost effect payroll support to our clients, but more so during the last 18 moths, supporting clients to furlough staff where necessary and navigate a complex and fast-changing landscape of new policies and law I am so proud of our team to have been named as finalists for this prestigious award."
Find out more about our payroll services here
You can see the list of finalists on the Accounting Excellence website.